We had the opportunity to host a virtual roundtable on the above topic and had some great conversations during our time together.
Below is the main section of the event hosted by our Chief Product Officer Arnab Mishra. He kicked us off with some stats around Organizational Agility, Operational Efficiency, and Team Productivity and one attendee pointed out the 93% that lack confidence in their revenue operations ability to keep pace with the changing market conditions, and if that holds true, the impact that could have on the overall market.
It made me think of the saying, the pace of change has never been this fast and never will be this slow again and if you think about that, it makes one feel that getting ahead of it almost seem impossible and may drive that 93% stat. 2020 was a tipping point for many in that things can no longer be addressed and left for a year before reviewed, to keep pace you must have access to actionable data at any time and have the systems and solutions in place to let you make changes immediately, course correcting, reviewing the outcome and repeat. Arnab shared a phrase from Accenture, "Never Normal" and while that may seem a negative, to me it is a call to action that we not settle for normal, do not let out operation get complacent.
Later in the session, Arnab speaks to Revenue Outcomes and the characteristics of sustainability around this. Here is the slide from that section that starts just after the 19 minute mark. This was by far my favorite section as it is really about the revenue mindset and how to approach it.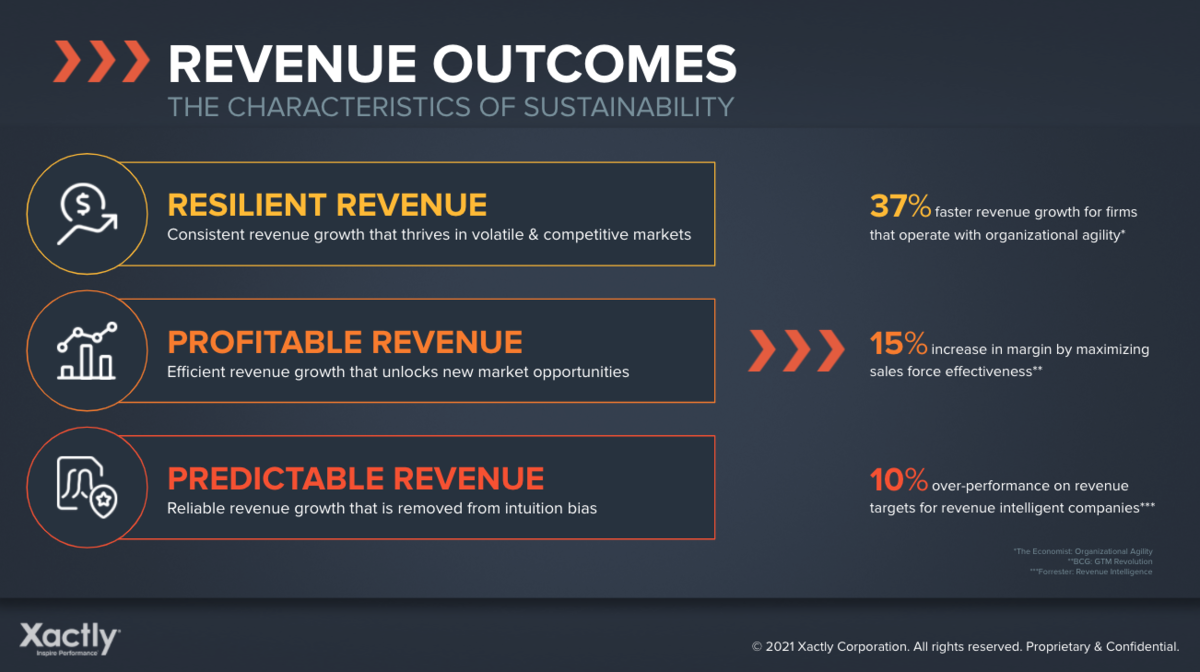 As you read this blog and the video, I hope you can keep one comment from this event in mind and that it will spark your focus and excitement on making that micro digital transformation of your revenue operation. "If you are doing things the same way you were 3 years ago, you are almost certainly doing something wrong." Embrace your never normal!